Tal día como hoy, hace treinta años:
Los

JAM

publican "

Setting Sons

", su cuarto álbum. Se trata de un parcialmente fallido, por incompleto, álbum conceptual centrado en los avatares de la amistad entre tres personajes-arquetipos de distintas opciones ideológicas situado en una Inglaterra postapocalíptica. Aunque casi inmediatamente

PAUL WELLER

se muestre decepcionado, y un punto desdeñoso, de su última obra, el disco representa un paso de gigante para la banda.

Hablando de los de Woking, hoy tocan en el Royal Spa de Bridlington.
Gira "Dancing In The Streets" con SECRET AFFAIR y SQUIRE en la Universidad de Leicester.
Los PURPLE HEARTS tocan un bolo de calentamiento en el Tumble-Down Dicks de Farnborough para preparar su inminente gira "Extraordinary Sensations Tour". De teloneros se llevan a los NIPS, quienes, aprovechando la reedición de "

Gabrielle

" por

Chiswick

, les van a acompañar en seis citas.

Simon Stebbing

al aparato: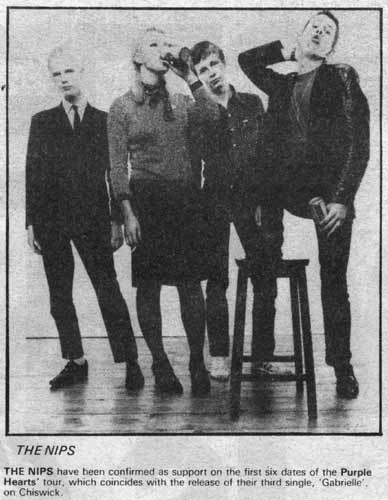 "Llevar a los
NIPS
de teloneros en nuestra segunda gira nacional -aunque la primera como cabezas de cartel- entre noviembre y diciembre del 79 fue un hartón de reír".
Los

MERTON PARKAS

y los VIP's tocan en el Nasville Room de Londres.
BACK TO ZERO actúan en la Universidad de Kent, Canterbury.
De nuevo, los KILLERMETERS son teloneados por los NAME. Hoy en el F Club de Leeds.
LES ELITE y un telonero desconocido tocan en Le Diamond Dive de Londres.
Único y accidentado concierto de los Sits Vacants, en su brevísima encarnación mod de los

100 FACES

, como teloneros de los

Forgotten

en el Civic Hall de Harrow. Épica pelea con una banda de motoristas al acabar.